For example, head light
Tell me about new arrivals
Buy footwear
Practical, high-quality and reliable footwear for all occasions from "Kamuflage.ru"
If you need footwear for fishing and hunting, field trips, trips to the country-side, mountain hiking, for severe men's games like paintball or incursions into the forest to pick up berries and mushrooms, then do not waste time on tiresome walks through ordinary shoe shops. You better look through the specialised section of the catalogue of online store "Kamuflage.ru".
Footwear for weather extremes and exciting adventures delivered to your home
If you live in Moscow, you can order anything from the "Kamuflage.ru" range of footwear with express delivery. Don't doubt: you will receive the ordered goods on time and they will be your size, just because in any case the courier will bring you one extra pair of the same boots, but of a different size. If the selected model happens not to meet your expectations, you can always cancel the order.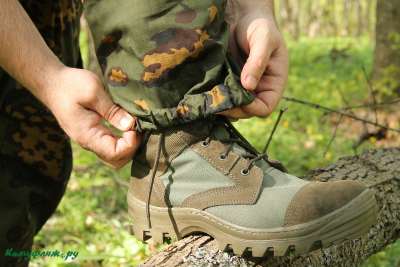 At the online store "Kamuflageru" you can buy footwear for active leisure – hiking, tactical games, hunting, fishing. Made in Russia and Belarus.
Footwear for hunters and fishermen. Buy profitably
It is not difficult to buy high-quality and affordable footwear for fishing and hunting, if you know where to buy. Specialized shops offering equipment for fishermen and hunters sell footwear as a related product; that is why usually they can't offer a large selection of models and sizes. Besides, the most common footwear in such stores is often unreasonably expensive. Take a look at the online store catalogue of "Kamuflage.ru", and you will realize that you have found just such a seller who will meet all of your needs.
Cold feet when fishing in winter? Evidently your footwear was not bought in "Kamuflage.ru"! The store is ready to offer a great selection of winter, summer, spring and autumn footwear designed for all types of weather conditions. We offer military-style boots such as "Ankle boots" with solid grooved soles and high lacing. We also offer high-quality all-purpose rubber boots, warm and simple, perfectly suitable for going both to the country-house and for picking up mushrooms and berries in the forest. Moreover we offer special fishing boots, which allow you to cross any waterlogged areas fearlessly. What's more, we offer superb fishing overalls which would allow you to enter into the water up to your waist and fish for many hours.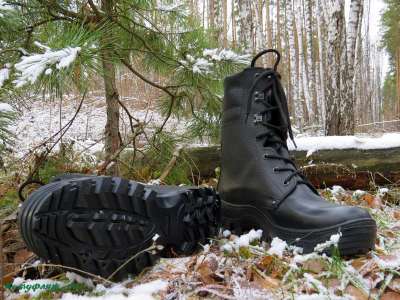 "Kamuflage.ru" sells insulated ankle boots made of leather and natural fur.
Footwear for tourists and thrill-seekers
Are you planning to go hiking? Be sure to choose appropriate footwear! "Kamuflage.ru" store will help you with this task. Whether sharp gravel or forest windbreaks or wet and slippery country roads, we have footwear for any extreme conditions.
"Kamuflage.ru" invites fans of military-sports games to enjoy the range of tactical and military footwear, which is perfect for paintball battles, airsoft and hardball. It is not only lightweight, comfortable and durable; its main purpose is to ensure maximum protection of the owner's feet.