For example, head light
Tell me about new arrivals
Buy summer camouflage clothing
A wide choice of summer camo clothing on the virtual counter of "Kamuflage.ru" store helps outdoor men to select the right outfit. The variety of styles, textiles, colours and purposes allows you to buy a summer camo suit that is comfortable to wear in any weather during the warm season.
Gorka-3
Gorka-4 Anorak
Summer Camouflage Clothing for Combat Situations, Airsoft and Outdoor Activities. Sale and International Shipping
"Kamuflage.ru" offers civil and commercial military clothing in one-colour and camouflage patterns. This section presents non-insulated (summer) models created for wear during warm months or in heated rooms. You can also find field camouflage clothing which can be used as an external protective shell (if put over a first layer).
The "Sniper" suit is a special tactical set of clothing released in two variants - one made of ripstop, another made of light shirt fabric. A third version of the suit is sewn from tent cloth in khaki. Since the "Sniper" camouflage suit provides excellent disguise, it is recommended for soldiers, airsoft fans, hunters.
Summer Field Clothing for Military and Civil Purposes
The "Kamuflage.ru" product range is mostly presented by universal field tactical clothing in camouflage patterns manufactured at the domestic factory in Russia. "Kamuflage.ru" offers three types of "Gorka" – a summer field suit. All of them are commercial models based on the standard military "Gorka" suit used by special divisions of the Russian Army and National Guard.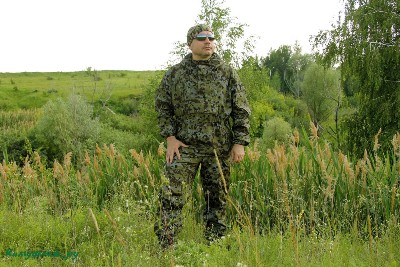 Summer "Gorka" suits are breathable, durable and wear/tear-resistant.
Along with the improved "Gorka-3"and "Gorka-4" models you can buy the original "Gorka-5" field suit which outmatches the basic model in terms of ergonomics, functionality and reliability. The "Gorka-5" set meets all requirements for the commercial military uniform and can compete with the best tactical field suits of foreign manufacture.
Summer "Gorka" suits are available in one-colour and over 10 camouflage patterns (authorized and commercial). Besides the store offers models of combined design – one-colour and camouflage patterns.
The "Gorka" series suits are made of ripstop - lightweight durable mixed fabric – and reinforced with nylon pads.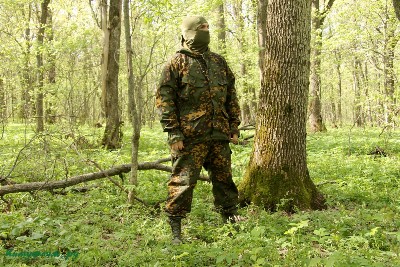 The "Sniper" series summer camouflage suit ensures disguise and protection from unfavorable external factors. Perfect for hunters and airsoft fans.
Protection Suits for Hikers, Fishermen, Geologists and Taiga Dwellers
The assortment of light summer field suits for hikers, hunters, fishermen and taiga dwellers is presented by two models – "Antignus" and "Taktika". In fact, these suits are universal, i.e. they can be used for civil and tactical purposes. "Taktika-2" and "Antignus" as well as "Gorka" sets are made of the same fabric and come in one-colour or camouflage patterns. The only difference between "Taktika-1" and "Taktika-2" series, however, is the density of cloth: "Taktika-1" sets are made of lower density shirt fabric.
Sports Camouflage Knitwear for Every Day
Another popular trademark product of "Kamuflage.ru" is a knitted suit created for everyday wear or indoor and outdoor training; recommended both for civilian and military as a change of clothes. Fabric: elastic cotton in fade-resistant camouflage pattern.