For example, head light
Tell me about new arrivals
Buy Sweaters and Vests
"Kamuflage.ru" shop boasts a wide range of sweaters and insulated vests designed to provide you with extra warm and increase your cold-resistance. A woolen sweater and a "self-warming" vest mean comfort and functionality.
VESTS
Vests from "Kamuflage.ru" and Why They are on Demand
"Kamuflage.ru" offers membrane outer shell insulated vests and self-heating vests created for a long outdoor stay in cold climate. A bigger part of the assortment is presented by insulated vests in one-colour patterns and camouflage patterns. All items of this section are given warranty. Delivery service within Russia and abroad is available.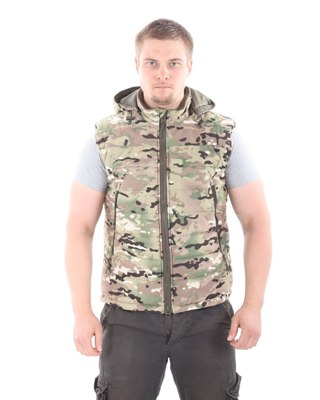 "Malamut" insulated camouflage pattern vests are popular with hikers, hunters, fishermen as well as fans of tactical games
"Malamut" Insulated Vests - Membrane Outer Shell
The "Malamut" series vests are "Kamuflage.ru" brand products which are manufactured at the domestic enterprise in Russia. There are two variants available: "Malamut" and "Malamut Active". The difference between them consists in the outer shell fabric. The "Malamut" vests are made of non-porous membrane, while for the "Malamut Active" vests porous membrane is used (more expensive material). Since porous membrane has better vapor permeability, the "Malamut Active" vests are recommended for intensive physical activities.
The "Malamut" line vests can be used as outerwear or as an insulating layer (for example, it can be worn under a summer "Gorka" jacket). As its membrane shell is wind/waterproof, such vest is a perfect solution for biking, ATV riding, motor boating etc.
The "Malamut" vest can be used as a camouflage equipment element of hunters, airsoft players or professional servicemen. The item is sold at the manufacturer's price.