For example, head light
Tell me about new arrivals
Buy Winter Camouflage
The whole variety of winter camouflage clothing designed for fishermen, hunters, and sportsmen includes several models of camouflage tactical suits. Traditionally, the "Kamuflage.ru" online store continues to focus on the models designed for surviving in the Arctic cold.
Костюмы
A Winter Camouflage Suit Ensures Warm Comfort and Disguise
There are two types of winter camouflage clothing: suits used as a second layer (for example, over winter outer garments for hunting) and insulated camo suits worn in the wild.
It does make sense to buy outfit in a colour pattern matching the local landscape for winter hunting and tactical games, especially if you live in a climate zone characterized by variable weather with frequent thaws and episodic snowfalls. In addition, it's worth getting a white camo suit - even in low-latitude geographic zones there can occur long snow periods.
White Winter Camouflage Suit
Made of thin and strong polyester or cotton, the white camouflage suit is inexpensive and comfortable; easily put over warm clothes and taken off. When folded, it occupies minimum space in a hunter/athlete backpack, so it can always accompany you during winter.
"Gorka-Zima" is a winter suit that provides protection from cold, winds and humidity. Ideal for hunters, fishermen, snowmobile drivers.
A completely white suit or blot white is a traditional winter camouflage army outfit. Its functionality has been tested and proved in different winter military campaigns in many countries over years. The white camouflage is still relevant nowadays.
You can buy winter army camouflage outfit or winter garments for hunting and fishing in "Kamuflage.ru" anytime: just call 8-800-775-52-83 (free within Russia) make your order.
Winter Camouflage Suit Withstands Low Temperatures
The most popular kind of a winter field outfit still remains a set including a jacket and overalls. Made of membrane and insulated by hollow fibers and fleece, the set provides excellent protection against extremely low temperatures – up to -40C. The best winter camouflage models for hunters withstand the real cold up to -60C!
Such indicators of cold protection are not at all exotic: a snowstorm at -30C and high humidity (which is quite usual for the Russian winter) feels double cold. That's why we recommend fans of winter tours to buy the camouflage suit created for hard frosts.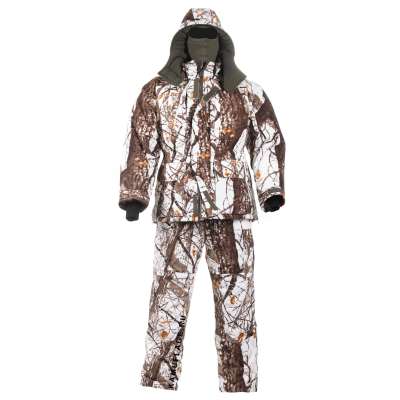 Winter camouflage suit "Siberia" is created for hunters, huntsmen, rangers, nature-photographers.
The modern winter suit for fishing and hunting is highly functional; ideal for active leisure and work. The set including overalls and a jacket in "Winter forest" pattern is a perfect solution during the cold season.