For example, head light
Tell me about new arrivals
Buy Winter Camouflage
The whole variety of winter camouflage clothing designed for fishermen, hunters, and sportsmen includes several models of camouflage tactical suits. Traditionally, the "Kamuflage.ru" online store continues to focus on the models designed for surviving in the Arctic cold.
Костюмы
Зимний камуфляж не дает замерзнуть и не позволяет оказаться обнаруженным
Зимний камуфляж подразделяется на две группы: маскировочные костюмы, надеваемые сверху на зимний костюм для ходовой охоты, и утепленные камуфляжные костюмы, пригодные для непосредственного использования в условиях дикой природы.
Для климатических зон, отличающихся неустойчивой зимней погодой с частыми оттепелями и эпизодическими снегопадами, целесообразно купить одежду для зимней охоты или военных игр с расцветкой, соответствующей местному ландшафту.
В дополнение к основному костюму стоит приобрести белый зимний камуфляж. Даже в низкоширотных географических зонах нередки продолжительные периоды сохранения устойчивого снегового покрова.
Белый зимний камуфляжный костюм
Сшитый из тонкого и прочного полиэстера или хлопка, белый маскировочный костюм недорог, просторен, легко надевается поверх теплой одежды и быстро снимается. Сложенный, он занимает минимум места в рюкзаке и потому в зимний период может сопровождать охотника или воина-спортсмена постоянно.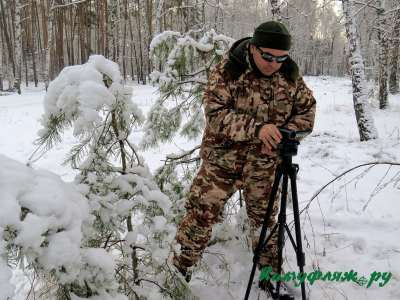 "Gorka-Zima" is a winter suit providing protection from cold, wind and humidity. Ideal for hunting, fishing, snowmobiling.
Белый полностью или белый с кляксами костюм представляет собой традиционный зимний армейский камуфляж. Его эффективность доказана десятилетиями использования в зимних военных кампаниях многих государств. Белая маскировка не теряет актуальности и в наше время.
Купить зимний армейский камуфляж или зимнюю одежду для охоты и рыбалки в интернет-магазине «Камуфляж ру» можно в любое время: достаточно набрать номер 8-800-775-52-83 (бесплатно из России) и сделать заказ.
Зимний камуфляжный костюм выдерживает низкие температуры
Наиболее популярным видом зимнего полевого облачения остается комплект из полукомбинезона и куртки. Сшитый из мембранной ткани, утепленный холлофайбером и флисом, такой комплект отлично защищает от морозов, доходящих до - 40˚С. Лучшие модели зимнего камуфляжа для охоты позволяют долгое время выдерживать стужу до - 60˚С!
Подобные показатели холодозащиты не стоит считать экзотичными: ветреная вьюга при вполне обычных для России - 30˚С при повышенной влажности воздуха может восприниматься человеком как вдвое более низкая температура. Вот почему приверженцам долгих зимних прогулок мы рекомендуем купить костюм зимнего камуфляжа, рассчитанный на самые сильные морозы.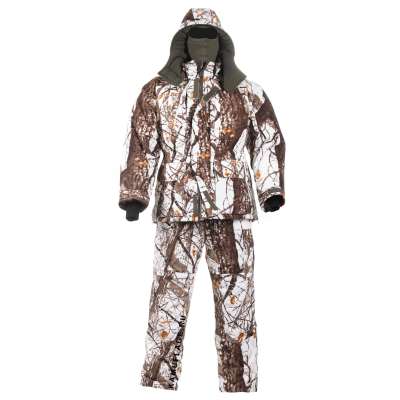 Winter "Saiga" is a perfect solution for hunters, huntsmen, rangers, nature-photographers.
Современный зимний костюм для рыбалки, охоты и активного отдыха отличается высочайшей функциональностью. В нем можно не только добывать дичь или ловить рыбу, но и заниматься повседневными делами, трудиться с комфортом. Комплект из куртки и брюк с высоким верхом на лямках и камуфляжем «зимний лес» - лучшее решение проблемы одежды для холодного времени года.