For example, head light
Tell me about new arrivals
Clothing
Kamuflage.ru" online shop offers clothing designed for fishermen, hunters, and outdoor recreation enthusiasts.
All products are tailored to customer needs, and the latest requirements in clothing industry are taken into account.
Warm, waterproof, and inexpensive clothes – only in "Kamuflage.ru" store!
Clothes that give outstanding comfort and secrecy
Getting good quality camouflage clothes is a matter of great importance for every fisherman, hunter, and photographer operating in the wild. For many, staying invisible in the forest, in steppe, among slide rocks, and in water areas can mean having an opportunity to enjoy the nature in its fullness.
Good hunting and fishing, or winning a military game is ensured by the right choice of your outfit. The precision of cutting and reliability of stitching provide general comfort of wearing an item, while excellent fabric properties guarantee its durability. The perfection of camouflage pattern prejudges your invisibility degree in the wild.
Guided by the needs of outdoor enthusiasts, "Kamuflage.ru" online shop makes it possible to satisfy the most demanding consumer taste.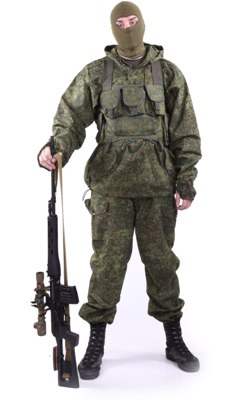 The store sells sets of field tactical clothing made of durable camouflage pattern/ one-colour fabric. Domestic production.
Top-of-the-range models on sale!
Camouflage clothing industry is developing fast. Renowned Russian and foreign manufacturers experiment with new materials and technologies all the time. Each new model undergoes rigorous testing.
"Kamuflage.ru" closely follows the updating process, and selects the models that managed to establish themselves on the market as the best ones.
Fabric functionality as a basis for customer comfort
A hunter, a fisherman or a tourist buys an item of clothing without reflecting too much upon its technological subtleties and details. What really matters is functionality, durability and comfort of the product.
Besides, your outfit may not disclose you by the "rustle sound" effect of the fabric. Therefore "Kamuflage.ru" store offers you products made of materials developed in line with strict expert requirements.
Order any item by tel. 8-800-775-52-83 (free within Russia), and you will enjoy the ultimate quality and comfort of "Kamuflage.ru" clothing designed for all weather conditions, and even harsh climate!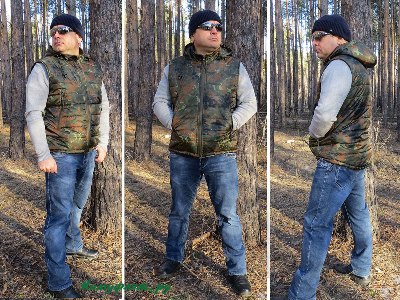 The store sells insulated casual wear of domestic production, other Russian companies, Polish and German brands.
Best prices for top quality clothing
"Kamuflage.ru" strives to sell its products at a low price. For instance, purchasing travel equipment in "Kamuflage.ru" could be a profitable investment.
A huge choice of products, a full size range, good quality and reasonable prices are clear benefits of cooperating with "Kamuflage.ru" company!