For example, head light
Tell me about new arrivals
Buy camo tank tops
Each hunter, fisherman, hunter, hiker, nature-photographer, or military game fan should keep a couple of camo tank tops of various colours in his wardrobe as the variety of colour patterns allows you to create the most efficient camouflage in the wild. Besides an extra T-shirt in your backpack will make you feel comfortable again after intense physical activities or a pouring rain.
Сamouflage Pattern T-shirts for Active Leisure Fans
Gone are the days when a soldier's white underwear could be used as dressing material. Modern military T-shirts have acquired their camouflage colours, and hard satin has been replaced by dense soft jersey. Nowadays T-shirts are used both as underwear and everyday summer clothes.
A distinctive feature of a T-shirt is wide shoulders and armholes treated with a dense tape. Neither the neck nor armholes tend to stretch. The minimal number of seams, well trimmed edges and top quality stitches reduce the probability of skin irritation.
If the outerwear is torn, the T-shirt will provide the desired level of disguise.
Thick breathable jersey (160 g/m2) ensures comfort of wear in any weather: it keeps cold, heat and moisture out, allowing your body to maintain the optimal temperature.
The camouflage pattern of the T-shirt must match the pattern of the suit. Actually, this is a necessary condition for creating a safe disguise system for a hunter, fisherman or a tactical gamer. Online store "Camouflage.ru" offers T-shirts in popular camouflage patterns. A wide size range of T-shirts allows selecting items both for teenagers and big adult men.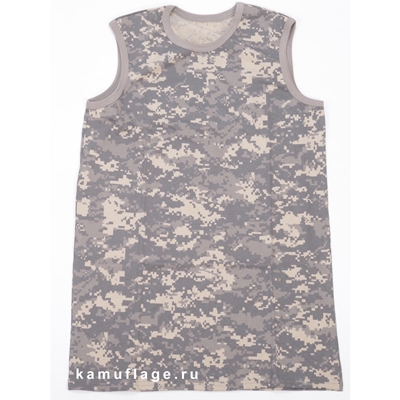 "Kamuflage.ru" offers T-shirts in camouflage patterns of foreign armies.
A camouflage pattern T-shirt is a necessary detail of a hunter's or a hiker's suit as well as military uniform.