For example, head light
Tell me about new arrivals
Buy sailor T-shirts
Sailor T-shirts – on-duty outfit item used in the elite corps of the Russian army and navy. Winter and summer sailor T-shirts from "Kamuflage.ru". We are happy to provide you with all colour patterns.
Sailor Shirt – Wear with Love and Dignity
Unlike camouflage clothing, for example, the sailor shirt was designed in order to ease the process of visual monitoring of sailors who worked with sailing weapon of the ship at a height.
Soon after seeing the world, the sailor shirt became the symbol of courage and victory, and the white-and-blue seaman outfit migrated to the ground forces. You can buy a modernized sailor shirt in "Kamuflage.ru" right now!
Sailor Shirt: the best Choice in the Warm Season
Simple and comfortable design, top quality cotton knitted fabric, excellent wear-resistance are just a few reasons explaining the popularity of a modern sailor shirt.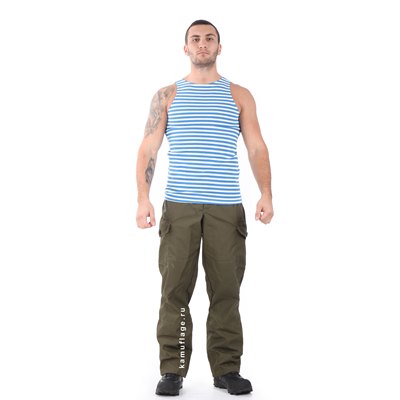 A traditional blue-and-white sailor shirt can be used as underwear. However, it is totally compatible with bearing heavy ammunition.
The classic blue sailor shirt of VDV (Air Assault Forces) is favoured by soldiers. Nowadays the colour of the strip indicates the type of the military forces. Online store "Kamuflage.ru" offers standard military outfit such as various striped shirts and T-shirts (light blue, dark blue, black stripes).
Summer Sailor Shirt: Fine Knit, Long Sleeves
Throughout the year "Kamuflage.ru" provides its customers with the most popular model of the VMF (the Russian Navy) sailor shirt.
It is made of fine cotton knit and features long sleeves. In fact, this summer shirt can be used as an underwear item. The thin fabric and soft seams always ensure total comfort of wear whatever you do – shooting, climbing up trees, hacking wood etc. Besides, it will protect you from the night chill of the Russian summer.
Warm Sailor Shirts for the Russian Winter
"Kamuflage.ru" offers cotton pile layer sailor shirts for the cold season.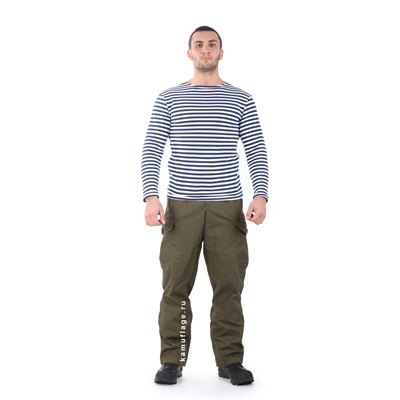 A winter sailor shirt can be worn both as a basic layer and first layer thermal underwear. Worn close-fitting. Prone to shrink after washing.
Soft and thick winter sailor shirts are very comfortable and practical, that's why it is a good idea to get a couple of them as a reserve. Besides, a sailor shirt might be an excellent gift for your friend or brother. Moreover, ladies love insulated striped shirts, and they are often seen to borrow the soft items from the men's wardrobe.